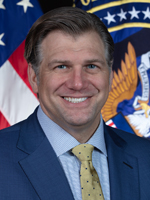 Introducing Andrew Borene: A Distinguished Addition to the Special Operations Association of America Board.
SOAA is proud to announce the newest member of our board: Mr. Andrew Borene. As we always strive for excellence, bringing on board individuals with unparalleled expertise and a diverse set of skills is crucial. With Andrew's entrance, we are confident that the depth and breadth of our board's expertise have been significantly enhanced.
A Stellar Career in National Security and Business Leadership
Andrew Borene is currently the Executive Director at Flashpoint.io, a London-based intelligence firm, instrumental in assisting national security and critical infrastructure teams across over 50 countries. This role allows him to combine his exceptional grasp of the national security landscape with the complexities of global business, providing governments and enterprises with actionable insights.
His expertise is rooted in his history of distinguished service. As a former senior officer in the U.S. Office of the Director of National Intelligence (ODNI) and the National Counterterrorism Center (NCTC), Andrew was entrusted with the significant responsibility of policy and planning for counterterrorism efforts across multiple continents. His leadership was crucial to coordinating these efforts on behalf of The White House National Security Council.
Andrew's skills are not just confined to the realm of government. He has steered business divisions of renowned Fortune 500 companies, such as IBM, Symantec, and LexisNexis. This blend of public and private sector experience makes him uniquely positioned to bridge the gap between these two worlds, an asset that will undoubtedly benefit SOAA.
A Lifetime of Achievements
A Certified Information Systems Security Professional (CISSP) and a licensed attorney, Andrew boasts a quarter-century of professional experience spanning national security, intelligence, and cybersecurity. He has been at the forefront of leveraging international public-private partnerships and various intelligence methodologies to achieve strategic objectives for global entities.
His academic affiliations include a Senior Fellowship at the George Mason University Law School's National Security Institute (NSI). He also contributes to the intellectual community by serving on the Editorial Board of the European Marshall Center's "Connections" journal and maintains active memberships with esteemed organizations such as the Council on Foreign Relations and the UK's Royal Institute of International Affairs.
A Veteran and A Recognized Leader
Having served in the U.S. Marine Corps, Andrew is not just a seasoned professional, but also a combat veteran. His dedication to duty and excellence has been recognized both in military and civilian circles, as evident from the awards he's received, including the FBI Director's Award and the ODNI Exceptional Achievement Award.
A Warm Welcome
We extend a hearty welcome to Andrew Borene. His unparalleled expertise, experience, and dedication to national security and intelligence will significantly bolster our board's capabilities. We look forward to the impactful contributions Andrew will undoubtedly bring to our organization and our mission.