With summer coming into full swing, it's time for cooking out and grilling! Nothing beats grilling downrange with the team with a couple of cold ones. Getting that feeling of nostalgia, that taste of home, even while you are somewhere very much not. Well, Patrick Flynn, a combat Veteran who served in the Army as a 12 Bravo, wanted to capture that feeling with a line of Patriot-themed seasonings and rubs. Frag Out Flavor is a Veteran-owned company that is always looking to find ways to give back to the Veteran community it was born from.
After getting our hands on the blends of seasonings we got to grilling. Our first impression was that the packaging is amazing! Everything even down to the packing tape was branding with hella cool imagery. Clearly, a lot of care was given to making sure the theme of Patriotism and Military Service was captured.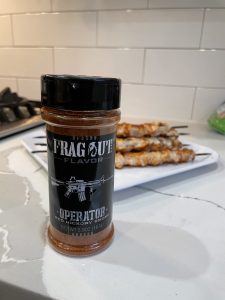 We used a blend of Bunker Buster steak rub, Chem Ops Savory rub, and our personal favorite for obvious reasons, The Operator Red Hickory Smoked flavor.
We grilled up some chicken kabobs and beef/bison/lamb blend burgers. The seasonings added a ton of flavor and color that made everything not only taste good but look great also! One of the really great things about Frag Out was that the flavor profiles were easy to understand and lended themselves well to blending for unique and tasty combinations of seasonings. They smell great right out of the bottle and you can tell they are made from top notch ingredients.
We also tried the Salty SGT and the Constitution blends and they were great too. We recommend the entire set of flavors but especially the Operator and the Bunker Buster blends.
We're looking to identify any units that are currently down range that we could send a set of the seasonings to, so if you know anyone please Contact Us!