When I talk about my time in Special Operations, I often find that few people have heard of "CSTs" and even fewer know what we did in Afghanistan. This kind of work doesn't get a lot of publicity and there are good reasons for that, but I feel it important that Americans see the relevance of how we can act as a force multiplier. So here's a quick brief on how women, as members of Cultural Support Teams (CSTs), became an important facet in fighting the Taliban.
The History
The Cultural Support Team (CST) program was a United States Army Special Operations Command initiative that was designed to recruit and train female Operators in specific skills with the aim of supporting Special Operations Forces (SOF). In the Middle East, the female population is roughly 50%. Cultural sensitivity towards men speaking with women presented a problem for the male-dominated SOF elements. The difficulties in communicating with half the population presented problems for intelligence gathering as well as building trust with locals. As a result, Operators could often find themselves left in the dark.
The intelligence gap had a significant impact on overall mission success, which led to the first discussion of the CST program in August 2009. The Combined Joint Special Operations Task Force-Afghanistan communicated a need to the International Security Assistance Force and U.S. Central Command for increased female service member support to the SOF Village Stability Operations (VSO). In 2010, U.S. Special Operations Command issued a tasking order which provided directives on CST taskings.
The Five Critical Tasks of a CST
Directly interacting with Afghan women and children.

Providing medical care for Afghan women and children.

Searching and questioning Afghan women and children.

Supporting information operations messaging to the female population and "minimiz[ing] civilian interference with military operations".

Advising Special Operations Task Force commanders and small unit leaders on female aspects of Civil-Military Operations.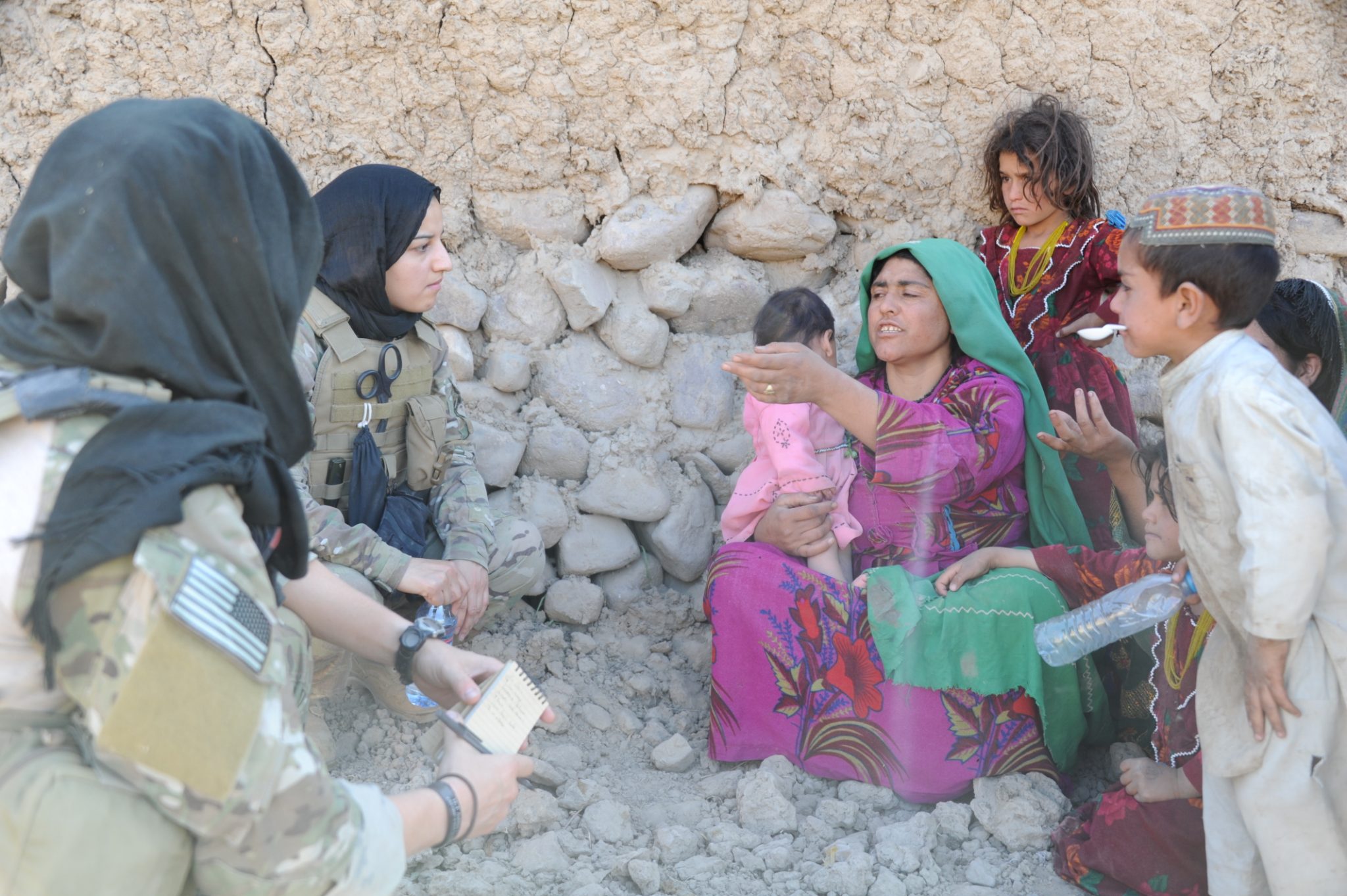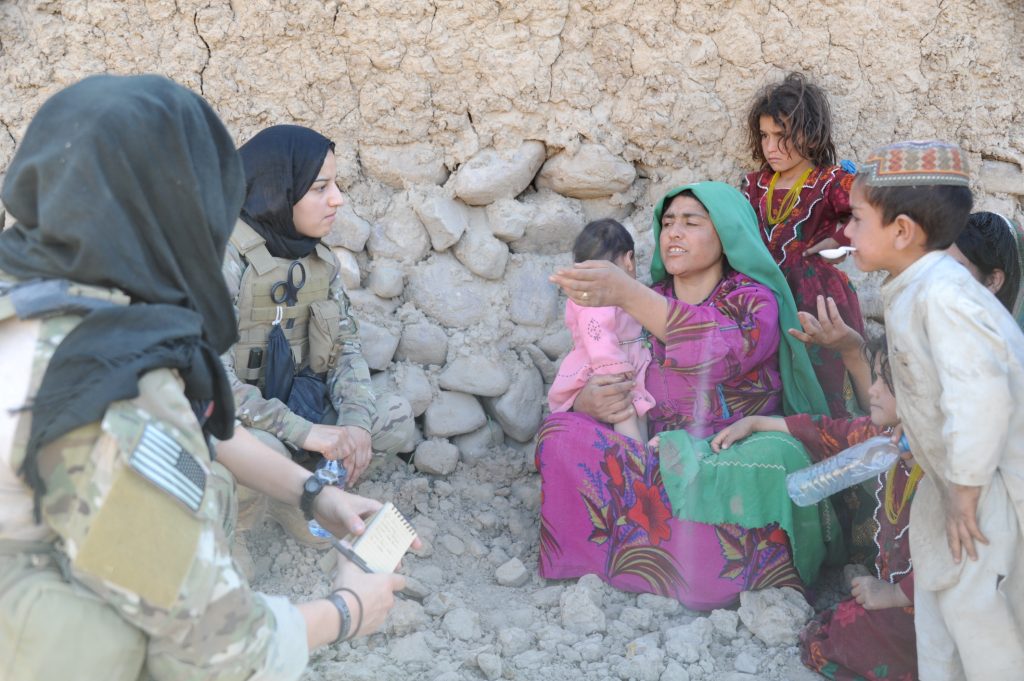 I was part of the first formalized CST rotation in 2011. At first, the presence of women and CSTs was not always welcome on deployments, so we were sometimes denied the resources and assistance needed to perform our mission. Nonetheless, the SOF mentality is built for overcoming such obstacles, and we worked through a local university to build connections with Afghan leadership and support the success of the overall VSO mission. However, CSTs did more than VSOs. The CSTs had two different mission types: VSOs and Direct Action (DA) operations:
Types of CST Missions
Village Stability Operations: VSO missions assigned two-women teams to live among SOF units in austere locations, instead of a large base. These CSTs worked at the government level and assisted the SOF teams by organizing educational camps for reading, writing, general hygiene, and medical knowledge. These were designed to help CSTs build connections and talk with the local women and children. My first deployment was a VSO, but I was subsequently asked to run a team for DA operations.
Direct Action (DA) Operations: DA operations involved supporting SOF teams by going into compounds to collect the women and children into one part of the compound. This allowed SOF teams to clear areas faster. The CSTs were trained to talk with the women and children to obtain more information that would increase the likelihood of overall mission success. We conducted nearly 20 combat missions, often at night, and I was awarded a Bronze Star for my performance.  Yes, I'm a woman Operator, and yes, I've been in gunfights.  
I was fortunate to serve in a CST that performed both VSO and DA missions and I am grateful to have served alongside my brothers and sisters in SOF. Unfortunately, the service of CSTs like myself has not always been given proper recognition. I and many other women have spent years fighting the VA to recognize our injuries. Often, members of Special Operations come home with a number of unique and compounding conditions that are labeled as Operator Syndrome. Male Operators already have a difficult time getting the care they need as evidenced by the elevated suicide rate in the SOF community. The VA's unwillingness to recognize the sacrifices made by CST members means we're still fighting to get the care that our male counterparts are already receiving. Thankfully, the mentality afforded to me by my training continues to drive me as I and many other women work to overcome these issues. I hope this was a helpful rundown on CSTs and provides an on-the-ground perspective into the experiences of women living at the tip of the spear.
You can find me on twitter or youtube.  
Author: Jaclyn Scott
Jaclyn "Jax" is a tenured Special Operations Warrant Officer, with over 17 years of experience. She is an expert in military cyber policy and has led global development operations in cyber countermeasures to mitigate near-peer attacks. She is a tech blogger, podcaster, entrepreneur, and senior analyst in Global Intelligence. She is committed to her growth as a leader and is currently co-authoring a cybersecurity book and finishing her Master's in Cybersecurity Risk Management at Georgetown University.