We're teaming up with Veteran-owned pomade maker, Out of Regz, to give away some of their awesome water-based pomades and hair products for those who push the limits. We love how committed Out of Regz is to supporting Veterans generally and Operators specifically!
Here's how to win one of TWO Out of Regz bundles that we're giving away:
Step 1 – Like us on Facebook or Twitter or LinkedIn
Step 2 – Comment on our Facebook or LinkedIn post OR retweet our tweet about this Out of Regz giveaway*
That's it… You'll be entered to win. We'll announce the winners on Tuesday, March 9th.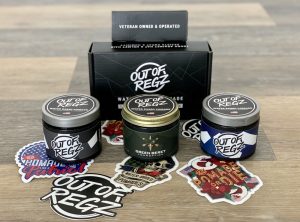 Out of Regz is a Veteran-Owned business that designs its products specifically with Servicemembers in mind. They know the nature of our active lifestyles and have developed hair products that can meet our needs.
We've put their pomades to the test. The Operator pomade is their strongest hold variety, so we started with that one. You can see our thoughts here.
So, whether you're down range or back home in the civilian world, we'd recommend working Out of Regz into your routine.
*If you do not have an account on Facebook, Twitter, or LinkedIn, contact us directly for more ways to enter.