Excellence is about setting a high standard for yourself and focusing on getting as good as you can possibly be. It is ultimately inward focused. It's about being as excellent as YOU can be, and contributing to the team while conducting yourself with integrity. It is a mentality you've likely developed as a member of the Special Forces community, and a powerful asset in transitioning into the civilian workforce.
I work as a financial services professional, and came to the world of finance from an equally non-traditional path. As a graduate student I studied neuroscience and the expectation set by my mentors and professors was that I would become the preeminent expert in my specific area of scientific study, but that there were many experts out there – often with decades more experience than myself. Ultimately, it was about moving forward both with confidence and humility in one's abilities.
Actually, this was the lesson I had also learned previously as a boxer:
No matter how hard you train, no matter how rigorous your discipline, anyone can get surprised on any given day. So execute on your plan, by all means, but recognize that plans change depending on what your opponent has in store.
Cultivating confidence in one's abilities while openly recognizing your blind spots has been instrumental to my professional evolution. It comes down to authenticity, and I believe this same approach can be applied to military Servicemembers in transition, or preparing to transition into civilian professions.
First and foremost, recognize that civilians like myself, who have never had the honor of serving, deeply respect the service and sacrifice Operators like you have made on behalf of our country. Your proven capacity to dedicate yourself to a tremendously arduous discipline speaks volumes about your ability and drive to acquire new skills and excel in their execution. What may have become "just another day at work" to those who've served, commands huge respect from civilian professionals. It's evident that the level of tenacity and drive Operators have developed as a part of their service is extremely valuable in the workforce.
Second, my experience in dealing with family members and colleagues who are Veterans suggests that Special Forces alum possess a distinct comfort in dealing with the unknown. This is an equally valuable trait. By being up front and at ease with colleagues or interviewers when they use terminology you haven't come across before demonstrates that you are there to learn and improve without ego.
In today's highly dynamic marketplace, by showing up and consistently demonstrating incredible drive and humility, my strong sense is that Veterans and members of the Special Forces community possess a distinct advantage. Your responsibility to the team is to pursue individual excellence – and you already know how to make that happen.
Ladies and gentlemen, thank you very much for your incredible service. If I can be of any assistance, my door is always open to you.
Very Respectfully,
Christopher Lay
---
This blog was written by a member of the Special Operations Association of America. These are the views and opinions of the author and are not necessarily that of the Special Operations Association of America.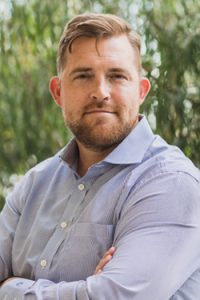 Christopher Lay
As Co-Founder and CEO of Endeavour, a leading financial services provider to US National Security, Defense, and Space entrepreneurs, Chris knows how a lack of resources can deny many people the chance to fully use their talents. Endeavour invests 50% of profits towards supporting Veterans and their Families.