The U.S. Air Force as well as their special operations units, have gone through quite a few changes the past several years – specifically with the entrance exam, recruitment process and elite airman group training. 
Recruits will now work with trainers and mentors to make sure they meet the standard before departing for Basic Military Training (BMT). After BMT comes the new Air Force Special Warfare Prep Course, which was formerly named the Battlefield Airman Prep Course. This is an eight-week program that is designed for BMT graduates who choose Special Warfare Open Enlistment to join one of the four career fields – Pararescue (PJ), Combat Controller (CCT), Tactical Air Control Party (TACP) and Special Reconnaissance (SR). 
You can visit the official Air Force Special Warfare website to get connected with local trainers, mentors and recruiters for preparation before BMT.
Changes also apply to the Air Force Physical Ability and Stamina Test (PAST) as well. The chart below outlines the minimum entrance standards for enlisted Special Warfare; survival, evasion, resistance and escape (SERE) and explosive ordnance disposal (EOD) career fields. 
While this chart provides the minimum requirements, the saying in the special operations community still applies – "exceeding the standard is the standard."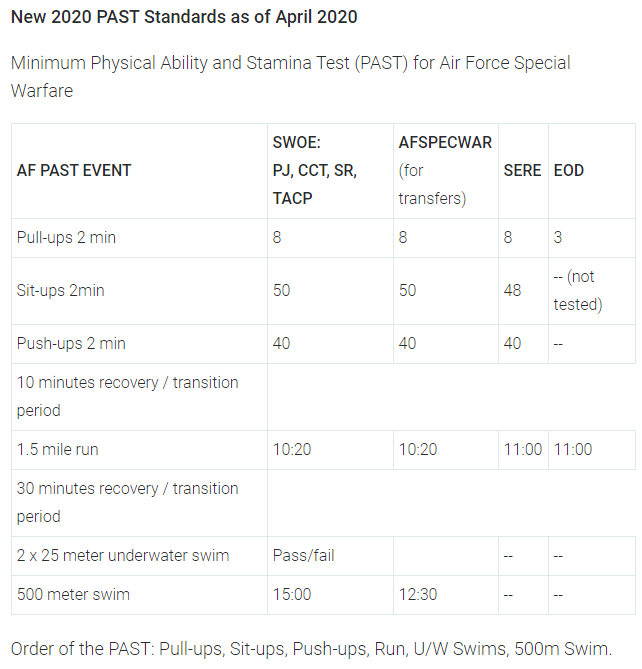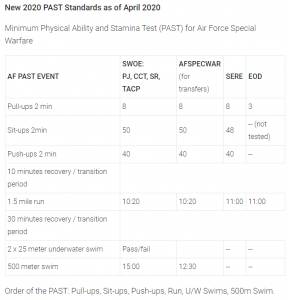 Even with these new minimum requirements, training itself should not change. You can find out more here.