191 people have signed the petition. Add your name now!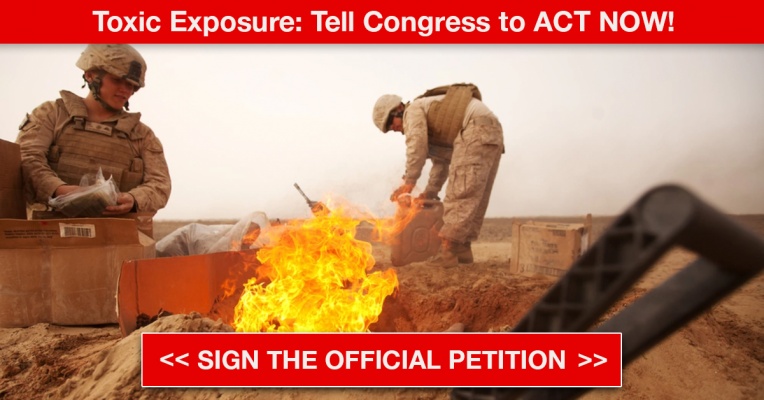 FIRST >> Burn pit exposure is continuing to harm veterans & our military by the MILLIONS.
SO >> We must join together and take action ASAP.
NOW >> Will you sign the official petition to stop burn pits and provide the necessary treatment that the men and women of our military deserve?
We need Congress to commit to stopping burn pits and exposure to toxic smoke that is wreaking havoc on our Veterans and members of our military who are still suffering.
Let's ask Congress to step up and ensure that our troops are taken care of, and that Veterans and others who have been exposed to burn pits and toxic water get the help they need and deserve.
We're CALLING ON YOU to help by signing this official petition and telling Congress and the Biden Administration that ENOUGH IS ENOUGH.
FACTS: Burn pits are a common waste disposal practice at military sites. These burn pits expose military personnel to toxic fumes and plastics! After all, burn pits are known to dispose of waste such as aluminum cans, petroleum, plastic, Styrofoam, rubber, wood, unexploded ordnance, paint, chemicals, & so much more! We need a total end to the use and exposure of our troops to burn pits and we need to do more to TAKE CARE of those who were exposed and harmed.
The toxic materials cause long-term health effects, especially in the lungs and heart.
Our military and veterans deserve better. Let's continue to demand CHANGE and LEADERSHIP from the Biden Administration and our Representatives.
*The appearance of the U.S. Department of Defense (DoD) image does not imply or constitute DoD endorsement.
Comments
Darrell Brooks
May 15, 2022
Iraq 2003-4
God bless our soldiers. They deserve the best care!
Congress, this might happen to one of your kids, if you ever let them be honorable and join the military.
I was in Iraq from 2005-2007 the burn pits never stop burning 🔥 the whole time we was there.
I am a USO volunteer and I care about our Military
All Signatures
Nicholas Diamond
Krista Star
Amber Hawkins
Kimberly Zambito
ryan ziegler
Darrell Brooks
Gail Lent
Diane Arnal
Barbara Brucker
Philip Lay
Janet Meyer
Shoyn Jones
Robert Braddy
Charlene Noland
Linda Maroney
John Hansen
Shirley Thibodaux
Donnie Melton
John C Lord
Suzanne Owens
Jim Bullock
Michael Embree
Nick Feldman
Melanie Smith
Jeff MacNamara
Paige Sorenson
Mark Miller
Cindy Matheson
Adam Kellogg
Steve Millbranch
Dale Braswell
David Greene
Jennifer Pollack
Lisa Gabriel
Dennis Davenport
George Anderson
William Martin II
Millie Davis
Allen Bailey
Joseph Knight
Andrew Estes
Colin Kiip
Sal Russo
Randy Farran
Marilyn Chase
Stacey Ackermann
Dan Hillam
Bill Marlow
Jacob Kimball
Dave Clark Jr
Lucas Sisk
jeff brady
Norman Salisbury
Anna Meddix
Andy Davis Sr.
Oliver Holcomb
Natalie Schaeffer
Jim Passick
Robert Sneed
Ava Lambert
Diego Murray
Mike Coffey
Nathan Daniels
John Ferguson
Sarah Salinas
Carsen McKinney
adrian church
Danny Duncan
Hannah Barnett
Brad Benton
Michael McDaniel
Charles Wallace
Justin Orozco
Alfred Conrad
Simon Haley
Kate Dorsey
Mark Wolf
Hayden Bishop-Saunders
Sam Ferrell
Doug Bird
Felix Gill
Brandon Weaver
Patrick Aguirre
Jared Hoover
Chris Grady
George Lyons
Carl Watkins
Christopher Reagan
Wendy Pittman
Chuck McMillan
Denny Holt
Bryan Godwin
Linda Hooper
Lionel Warren
Vic Gallagher
Joshua Vaughn
Phil Nichols
Kenneth Snow
Pete Goodwin
Annie Arroyo
James Humphrey
Jay Russo
Elijah Bowman
Kelly Moody
Ted Chapman
Luis Burke
Matthew Livingston
Gerald Keller
191 people have signed. Add your voice!